Enjoy our latest fall wedding color palette, inspired by the undertones of the harvest season, featuring Navy Blue, Cinnamon Rose, Bronze, Burgundy and Purple! Capturing a very distinct and captivating autumn style, this look is perfect for late summer and fall weddings. It maintains an eloquent balance of warm and cool hues with elegant and rustic characteristics. The strong contrast between colors provides a bold yet soothing quality. Classic and sophisticated Navy Blue makes an excellent foundation color. Here are some color palettes from real wedding. Read it, you will find the best color for your fall wedding.
Purple, Brown and Greenery
The purple color is one of the most popular wedding hues. From rich shades of eggplant to lighter shades of violet or passion. Purple flowers, purple cakes, greenery decorations mix and matched will make your wedding stand out.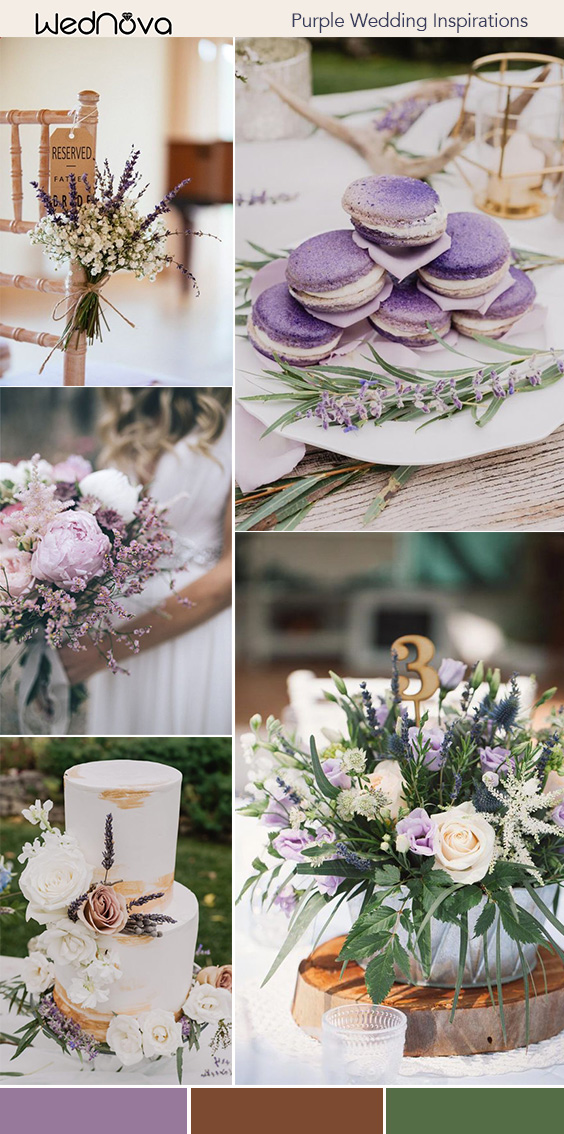 Photo Credits: chicwedd/ knotsvilla/weddinginclude/rockmywedding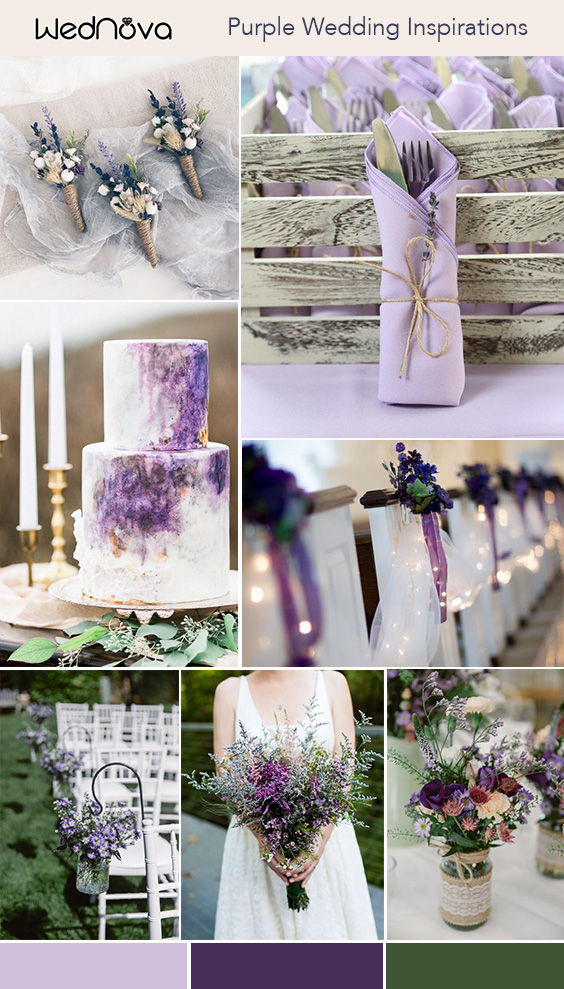 Photo Credits: etsy/ make-wedding-bouquet/burnettsboards/
whimsicalwonderlandweddings/theknot/friedatheres
Dusty rose and Navy blue
It's also the time to rethink pink since dusty rose is taking over for the wedding trend. Not girly but sophisticated, this plain and muted tone pink just makes it a perfect wedding color for any wedding decoration and it works well for all seasons. Navy blue must be indispensable in fall wedding. Especially dusty rose and navy blue mix and match, is perfect.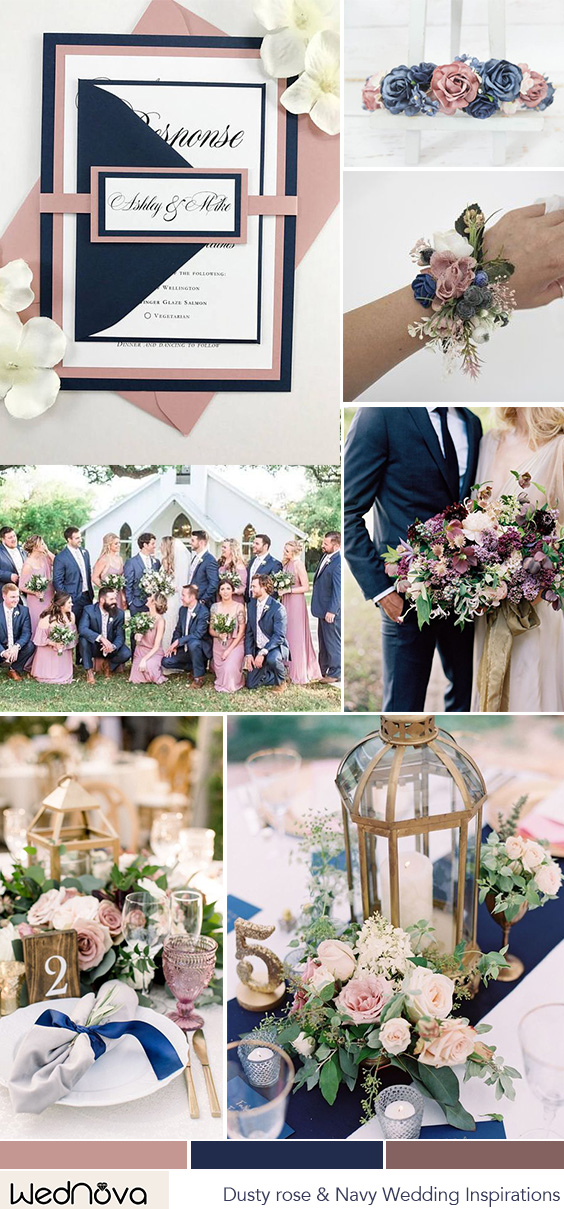 Photo Credits: etsy/ etsy/etsy/colorsbridesmaid/heyweddinglady/floralsbyjenny/
Dusty blue and Burgundy
Dusty blue and burgundy --- This perfect pairing creates a wedding theme that's dreamy, luxurious and undeniably romantic. The cool tones of blue soften the deep, rich shades of burgundy to create a combination that's guaranteed to get your guests talking.

Photo Credits: colorsbridesmaid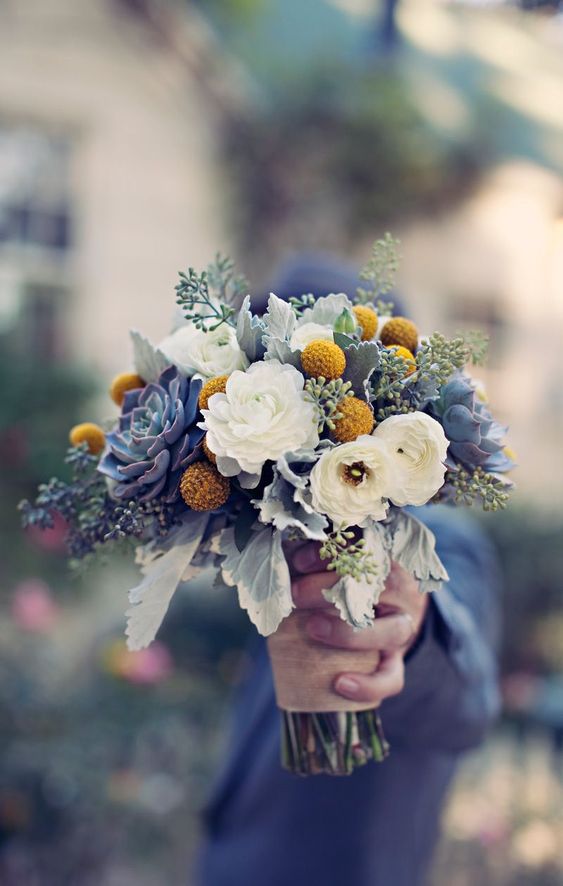 Photo Credits: weddingz
Dark navy,Gold and Burgundy
The dark navy and glitter gold matching table signs are perfect for autumn weddings. And romantic burgundy is a perfect color for fall wedding. The mixed and match. You will love them.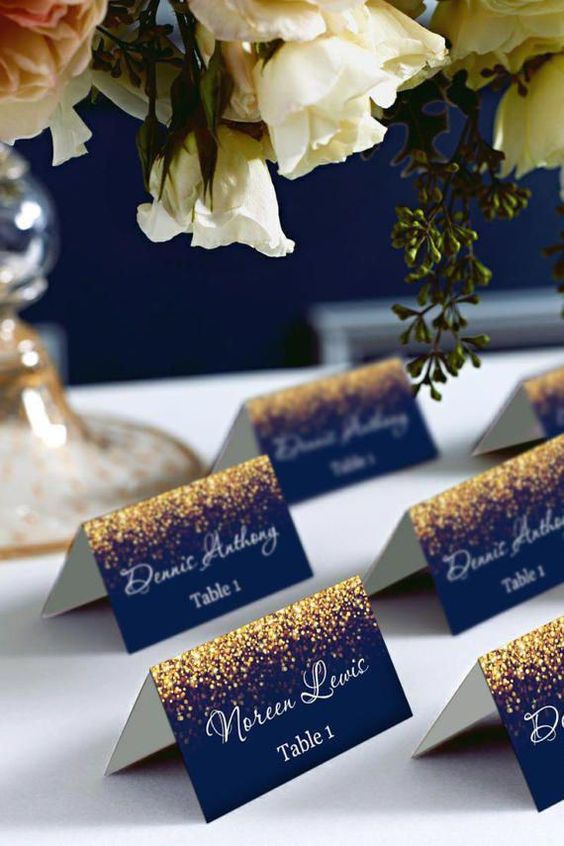 Photo Credits: etsy

Photo Credits: weddingz/ etsy/dress-girl/deerpearlflowers/etsy/deerpearlflowers
Greenery,Navy and Marigold
Greenery is also essential in fall wedding. And it is really the most easy matching color for wedding. Use green and navy for your wedding, or mixed and match bright marigold, this combination will make your wedding unique and novel.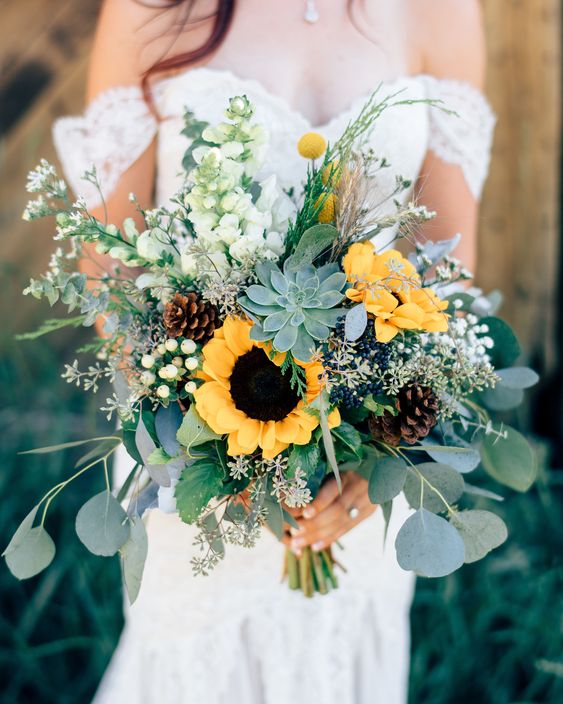 Photo Credits: marthastewartweddings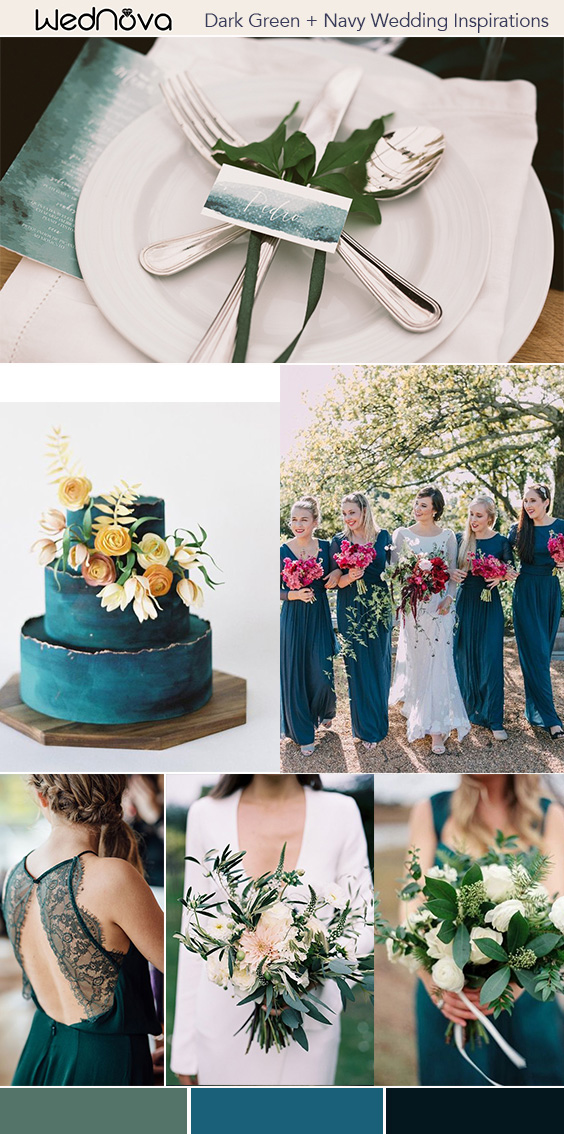 Photo Credits: whimsicalwonderlandweddings/ greenweddingshoes/
flowerforweddings/rockmywedding/pinterest/marthastewartweddings
Burgundy and Greenery
Of course, Burgundy and greenery, these two essential colors mixed and match, is a fantastic for fall and winter weddings. And you can see it everywhere. It could match a wide range of colors, from navy, rose to black, and much more. This hot wedding color combo creates a vintage and elegant look.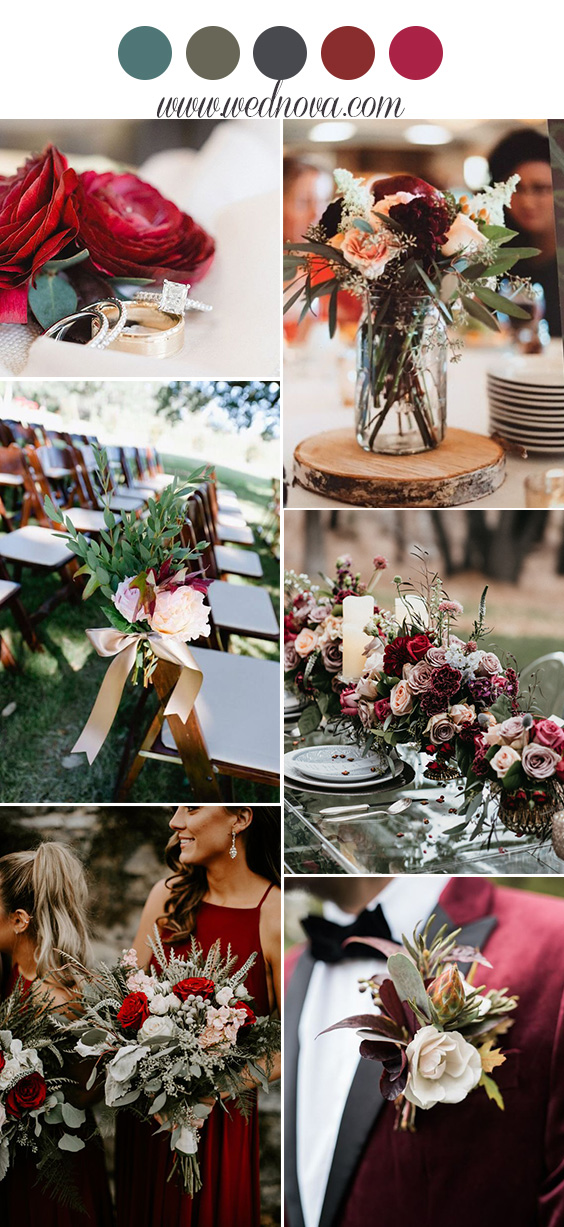 Photo Credits: heyweddinglady/ rosesandrings/colorsbridesmaid/bellethemagazine/
casablancabridal/rockmywedding
Burnt orange and dark green
We have to say "BURNT ORANGE", is the hottest color in 2019 wedding. When it comes to the shade itself, this timeless metallic shares similarities with copper but has more of a yellow-brown tone. This color will melt into the deep autumn perfectly. Enjoy it!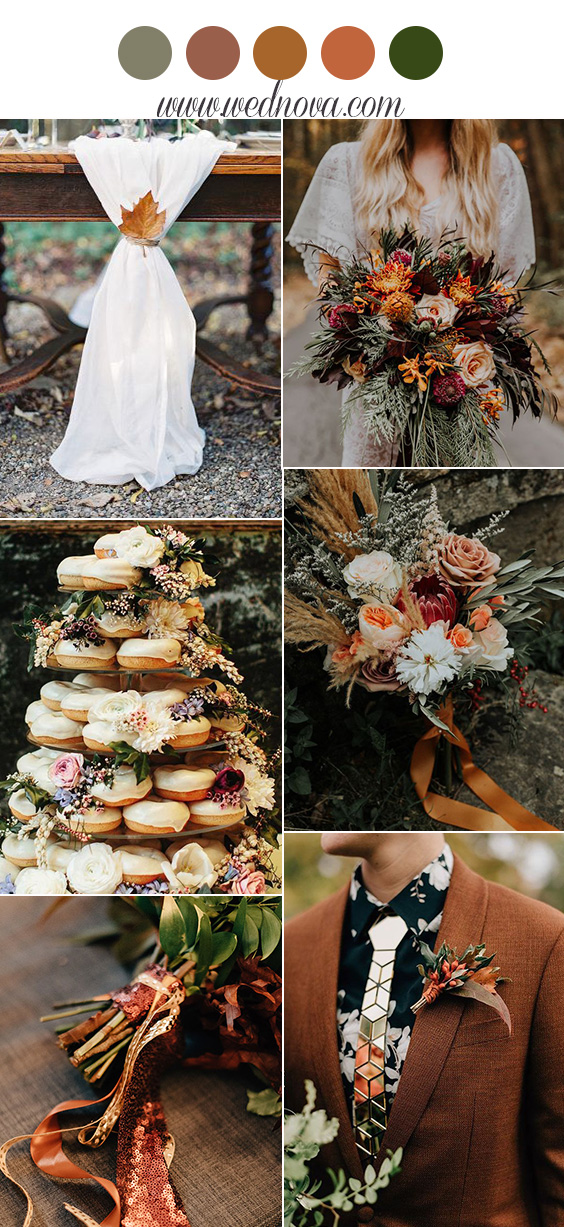 Photo Credits: weddingforward/ mcphotography/emmalovesweddings/